HALLDE CC-34 at PMQ Taste Library in Hong Kong
Published: 2015-01-09
When the Swedish Consulate General in Hong Kong arranged a culinary event in connection with "Business of Design Week", a local annual event for architects, HALLDE was included as part of Swedish design in the kitchen.
In early December Henrik Olsson, chef and owner of Grythyttan Hospitality Group, travelled to Hong Kong with a HALLDE machine under his arm in order to prepare food with the renowned food critic Craig Au at the trendy PMQ Taste Library in central Hong Kong.
The purpose of the mission was to market Swedish food culture and with this in mind prepare a Swedish and a Chinese dish together with eight architects from each nation. Henrik saw this challenge as great fun and an exciting event.
The HALLDE Combi Cutter CC-34 proved a valuable aid in the preparation of the two dishes on the menu:
Meatballs
Knuckle of pork and cabbage pudding
The CC-34 remained at PMQ (Police Married Quarter) Taste Library, which is situated in a 6-storey apartment building where many apartments have individually designed interiors that are the work of various architects. Taste Library is made up of three rooms with themed interiors representing a library with shelves full of cookery books, adjacent to a fully equipped professional kitchen. During 2015, Taste Library will be open to the public as a place that will inspire people to cook, write shopping lists, go shopping for ingredients and finally prepare the dishes in the kitchen.
"Business of Design Week", with Sweden as the cooperating host nation, had a distinguished visitor in the form of the Mehmet Kapland.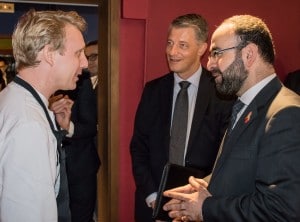 From the left: Henrik Olsson, Chef, Jörgen Halldin, Consul General of Sweden for Hong Kong and Mehmet Kapland Swedish Housing and Urban Development Minister.
During the week a gala dinner was also arranged with dishes by Stafano Catenacci, Head Chef at the Michelin-star restaurant "Operakällaren" in Stockholm.