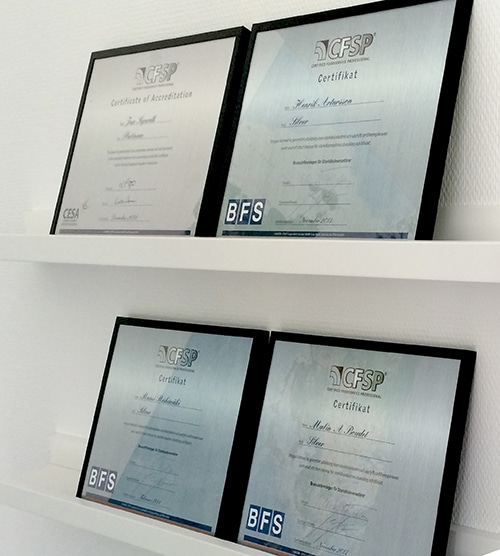 HALLDE Sets the Standards
Published: 2015-08-06
By Douglas K. Fryett
There is an old saying … "Learning begets knowledge. Knowledge begets confidence. Confidence begets sales." I believe that no truer words have been spoken when it comes to understanding the relationship between learning and the attainment of results, especially sales results, and in the building of confidence and trust between a customer and his/her suppliers.
In the food service / catering industry a professional educational program has been developed called Certified Food Service Professional (CFSP). This program was designed specifically to increase the knowledge base of individuals across all segments of the food service industry – from supply chain participants (manufacturers, distributors, design consultants, service organisations, etc.) to end-user / operators. Covering a wide variety of subject areas from food service facility design, to equipment selection, to warewashing, and industry sustainability efforts, to name but a few, the program has been designed to raise the overall awareness of those previously mentioned interdependent constituents that make up a rather complex industry. From an end-user / operator perspective, knowing that they are dealing with industry professionals who have their CFSP designation, they can rest assured that those individuals have a much higher knowledge base and a better understanding of the issues, concerns, and perspectives that they (the end-users) face on a day-in, day-out basis.
The CFSP program originated in the United States but in recent years it has started to migrate around the world. For example, the comprehensive CFSP "Introduction to Food Service" study guide was initially rewritten for the U.K. marketplace, and then modified and translated for the Swedish market. Current writing efforts are underway to make the CFSP programme and materials "global" in nature with one international book and corresponding educational seminar.
For individuals to become CFSP certified they must demonstrate one's proficiency within the industry as well as provide tangible evidence that they have had relevant and meaningful training and personal development working in the food service / catering industry.  Industry proficiency is attained by completing a comprehensive daylong seminar and then passing an equally comprehensive exam. The exam encompasses all of the various components associated with professional food service facility design and operations. Successful candidates will receive their CFSP designation and will be held in the highest stature by their peers throughout the world.
Industry professionals from over 30 countries have received their CFSP designation, with program seminars having been held in the United States, Mexico, Canada, U.K., Sweden, Austria, Singapore, Thailand, and Australia, with many other countries soon to be become part of the CFSP fraternity.
HALLDE is very pleased to say that many of its employees have attained the CFSP designation over the past two years, with more due to participate in the program in the months ahead.   The knowledge gained by these individuals have helped them significantly in their sales and business development activities and raised their awareness level regarding the various interdependencies and interrelationships that exist within any food service operation.
No matter what segment of the industry you are working in, I strongly encourage you to take a very serious look at enrolling in the Certified Food Service Professional Program – CFSP. Your knowledge and confidence levels will go up which in turn will benefit you greatly in dealing with your customers and with your business development efforts.
If you would like further information regarding the CFSP professional designation then please visit the following sites: www.cfsp.org.uk or www.cfsp.se
Doug Fryett, founder and owner of the Fryett Consulting Group, is a consulting firm dedicated to the global food service industry. The firm specializes in strategic planning development for its clients along with conducting proprietary market research, leadership development, and distribution strategy development. Doug is also a frequent speaker at industry events and forums. To learn more about Doug Fryett and his consulting firm's practice, visit www.fryettcg.com