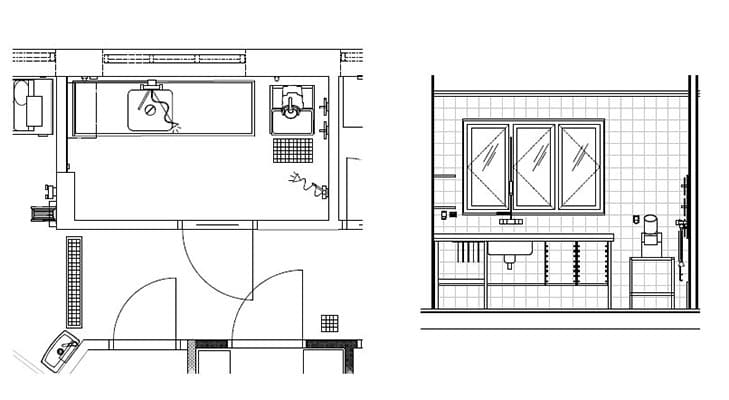 The kitchen consultant's thoughts surrounding planning of equipment
Published: 2016-03-23
When Storköksbyrån receives a task it often means that we suggest equipment.
Industrial kitchen consultants, what do we need to think about?
As an industrial kitchen consultant there are many parameters to weigh in when planning a kitchen, but the greatest focus is placed on logistics, efficiency, working environment and hygiene.
The starting point is that it must result in a pleasant working environment, where we, in today's kitchen, can work as a team. The preparation of vegetables and fruits has increased each year as many of our customers have a health perspective and we want to offer a lovely taste experience with an interesting texture and consistency to the served food.
In the flow, when we plan for the raw handling, we think of bright premises, good work surfaces, close to water, vegetable rinsing machines, peeling machines and above all chopping and cutting machines. There should be plenty of preparation space to handle primary products, and trolleys of different types in order to be able to move them easily to a refrigerating room with the correct storage temperature.
What does the project look like?
To be able to do a good job we always sit down with the customer and go through whether there is a concept for the business or whether this is still to be developed. Questions such as: what will be prepared, cooked and served in the restaurant? How many guests are predicted per day? What primary products will be prepared on-site and what will be purchased ready prepared? For handling of vegetables, fruit and the like we calculate how many kilos will be cut, chopped and sliced. We must ensure that the capacity and function correspond. Often we don't receive all of the answers and must rely on our competence and experience.
What requirements does the customer have for the equipment?
Here we weigh in many aspects; who will buy the machine and who will handle and care for it. Does our customer focus on environmental aspects or desire environmental classification? Does our customer want a good working environment with thought through ergonomics? What are their thoughts concerning performance and price? Long life span? Hygiene and cleaning? We weigh in all the aspects and propose the best alternative for our customer based upon the above requirements.
How do we develop as industrial kitchen consultants?
In order to know what is happening on the market, what trends prevail and how the technology develops, we carry out study visits both in Sweden and in the rest of the world. Asia is a particularly important market to follow developments in, as things move quickly there. From equipment manufacturers we need to receive demonstrations that show how the machines work, brochures and technical documentation in order to be able to describe the correct product in the project.
The capacity of the kitchen equipment is also important, as are the accessories. Our challenge is that we seldom meet those who will ultimately work in the kitchen. For that reason, it is important for us to be able to show and explain how we have thought. This places higher requirements on our basis for tender that we naturally ensure are all well thought through.
Peggie Ulle, MD/ Industrial kitchen consultant
Storköksbyrån i Stockholm AB is a consultancy company that investigates, plans and inspects restaurants and industrial kitchens. The services we offer include everything from idea and development phases to follow-up of the finished result.