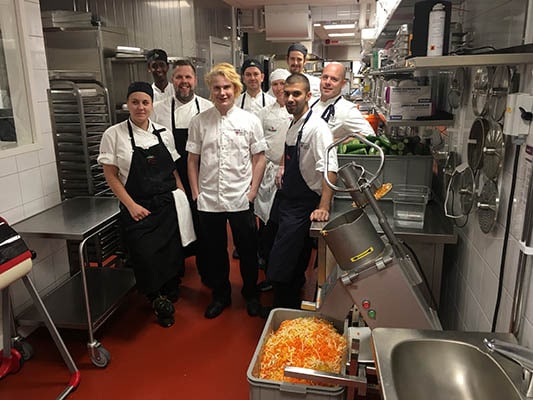 A fun kitchen means happy staff – happy staff mean a great restaurant.
Published: 2016-09-16
This morning when I arrived at Villa Wera, changed my clothes and took care of the goods that had been delivered, drank a cup of coffee and chatted with my chefs about how the weekend had been, it made me think about how different all the kitchens have been where I have worked in and what a tremendous difference it makes when there is a good mood in the workplace and people are enjoying themselves.
When I started out as a student chef, I was fortunate to have mentors who were greatly skilled, while also having the capacity to share that with us youngsters. These are skills that have been handed down for generations, questioning the chef was not recommended – it was more a case of "we do as we always have done." The most important thing seemed to be the process, and the ability to adapt to the raw ingredients and the guests came second.
Over the past 10-15 years, many things have changed, we travel more, see more on the Internet and on YouTube, not to mention all of the cookbooks that have increased our awareness of guests, restaurateurs and chefs. When we were given the opportunity to influence what the kitchen at Villa Wera would look like, Johan and I had a few priorities. We wanted to be able to cook food that would be spectacular on the guests' plates – meaning the result was crucial. It should also be a kitchen that was easy to work in, with short distances and equipment of the highest quality, adapted to the cooking we were to do there. With a good kitchen, the staff will be happier, and of course that rubs off on the guests. It sounds simple and actually it is simple.
Proceeding from what we wanted on the plate and working out how to achieve that with the equipment available is very stimulating. Having to achieve that while maintaining good finances and doing it for more people than we may have done ever before in our careers was simply a challenge. Everyone in the kitchen helps out writing our menus and I am pretty sure that many things we are doing have never been done in the same way before, but the end result is usually fantastic (though not always) but failing is part of it, allowing us to cross off one way of reaching the final goal.
My hope is that our young chefs and student chefs will be afforded a new way of thinking when they are with us – that you don't have to do things a particular way, that you should be happy to make use of machines and equipment to cook good food for your guests. Questioning the rules and trying new ways is something we all join together to accomplish. Letting things go wrong, to then just try a different way and to ultimately end up with something good or, if we are lucky, really good, helps us develop our food every day.
Andreas Hedlund, restaurateur and chef at Villa Wera in Solna, Sweden, together with Jenny Hedlund and Johan Lundström.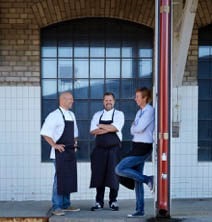 From the left: Johan Lundström, Andreas Hedlund and Jenny Hedlund.