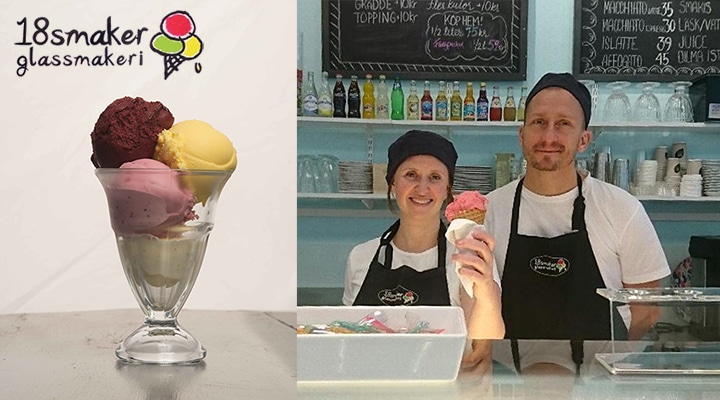 Cones, cups, bomb or gateau – we're talking ice cream …
Published: 2016-12-01
At "18 Smaker Glassmakeri", the concept is to use as few ingredients as possible to manufacture ice-cream and sorbet from fresh produce without additives! The people behind the concept are Karin Undine and Dan Falkenberg who opened shop on Timmermansgatan in Stockholm's Södermalm district in 2009.
Karin and Dan, who were part of the same group of friends since their youth, both had degrees in IT, but gradually felt that they wanted to do something completely different …
When their paths crossed again in the late 2000s, Karin had just read the book "Den hemlige kocken" (The Secret Chef) by Mats-Erik Nilsson, who was inspired to write it after discovering that Magnum Pistachio at that time got its green colour from spinach and also contained numerous chemicals … Dan and Karin's discussions regarding their emerging business concept centred on what we actually put in our bodies.
As a student, Dan had worked part time "making ice-cream" by mixing various flavourings and powdered milk and they both felt that this was an area of business that could do with a boost. In the end, they decided to offer consumers what they consider to be "real ice-cream"!
18 Smaker Glassmakeri & Café is not certified as an organic producer since they have yet to find organic alternatives for certain flavours, although most of their ice-creams are organic because the base – the milk, cream, eggs and sugar – are organic through and through.
They produce ice-cream daily during peak season and several days a week in the low season. Flavourings are mixed, finely ground or chopped and then mixed into the ice-cream, sorbet and yoghurt bases, which are then poured into the ice-cream machines.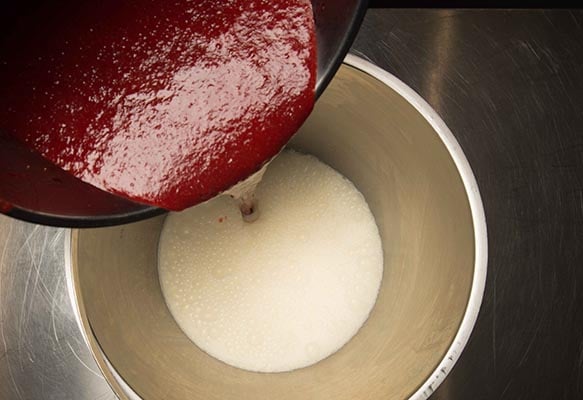 Blended strawberries flavour the ice-cream base.
Dan and Karin experiment with flavours and also use ingredients enabling lactose-intolerant and vegan customers to feel welcome and choose from their product range. There are always some variations available as ice-cream made from rice, oats, almonds or soy products.
In addition to the ice-cream bar, which has contained more than 18 flavours every time I have visited, a range of coffees has also been on offer and recently a soup-of-the-day and pizza slices have begun to be served at lunch time.
Naturally, ice-cream bombs, gateaux, cups and ready-made packs can also be ordered.
Personally, I can't get enough ice-cream and simply must recommend a visit!
/ Malin Annebäck
Marketing Director