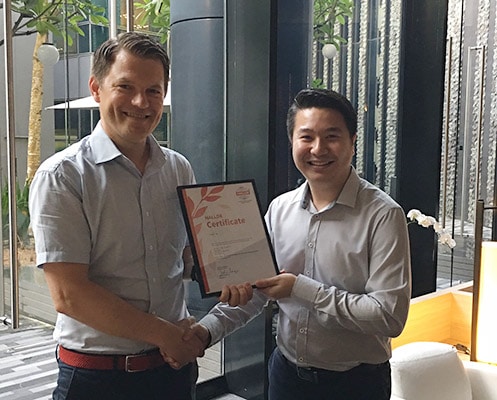 Elwin Too becomes the first HALLDE specialist!
Published: 2017-06-15
Good knowledge of HALLDE equipment and how it is used is a prerequisite for offering end-users the right machine for the right setting. HALLDE operates worldwide, and it is crucial for our carefully selected global partners to achieve the necessary level of proficiency to ensure that our customers are satisfied.
HALLDE has developed a training programme consisting of theory and practical segments that provide in-depth knowledge of HALLDE. The training covers everything from product expertise, technology, manufacturing processes, to standards and approvals.
The first certified HALLDE specialist, Elwin Too, Sales Manager at CP Solutions (Asia) Company Limited in Hong Kong, diligently studied HALLDE's training material and passed the theoretical test and the practical exam in an exemplary manner!
We at HALLDE want everyone involved to feel like a winner, from manufacturers to kitchen consultants, retailers and end-users. Together we want to create a simplified, safe and pleasurable life in all the world's professional kitchens!
Malin Annebäck
Marketing Director