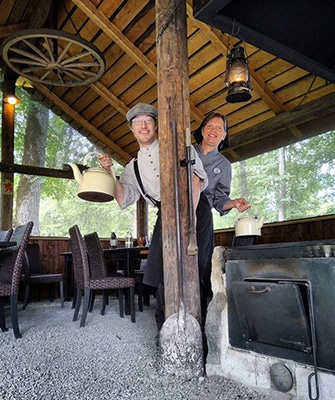 Gastronomy in harmony with nature
Published: 2018-03-13
The Sjöborgen farm, located right next to a forest lake in Småland, offers a dining experience that is a bit out of the ordinary. The home-grown produce and ingredients, or those which come from food artisans in the surrounding region, are prepared in an outdoor kitchen using fire and smoke as heat sources.
After many years in the restaurant industry, Malin and Peter Comstedt have brought their dream to life with Sjöborgen – which takes the approach, "from seeds and pastures to palates and stomachs". They grow their own vegetables, raise animals, fish, and pick and gather what nature has to offer. The ingredients are mostly sourced from the lake, the forest and the garden right next to the restaurant. Since 2013, their business has been a meeting place that offers an environmentally-friendly taste experience in nature – a gastronomic zone.
The seasonal menu, which is composed together with the guests, is based on requirements for ingredients or year. Malin and Peter also offer events where guests can prepare the food themselves, using recipes and the ingredients as the basis for a pleasant get-together.
When they arrive at Sjöborgen, guests receive a guided tour of the farm dating from the 1400s, of which Peter is a third-generation owner. The philosophy is to present an alternative lifestyle and provide a dining experience that emphasises a comprehensive approach to sustainability and being environmentally-conscious.
I have not been there yet, but it's just a matter of time
Malin Annebäck
Marketing Director
To find out more about Sjöborgen:
Home page
Instagram
Facebook