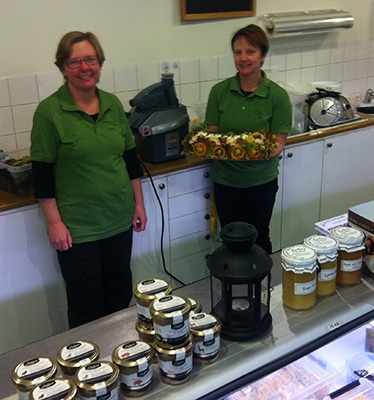 Maximise your investment by learning its potential
Published: 2015-04-15
A machine is an investment in saving money and more effective working. Therefore it is of the utmost importance to ensure that they are fully utilised, operated correctly and that they meet or even exceed the customer's expectations.
Kristina Nygård, salesperson to the Swedish market, regularly travels to visit end-users. Here she describes how she works:
"It's a matter of finding out what the customer's expectations are, asking questions and then seeing the potential. A couple of weeks ago I visited "Smedjegatan's Delicatessen" in Karlskrona. They have a Vegetable Preparation Machine RG-50S. When they opened last autumn they took over an existing kitchen equipped with this machine but unfortunately they had limited knowledge of its many uses. After a while they decided to contact HÄLLDE. I always carry a selection of cutting tools for demonstration purposes in order to give the customer the opportunity to try them for themselves. The RG-50S is able to make over 30 different types of cuts…
As we went through the contents of their menu, we were able to conclude together that they could use the machine for so much more than merely slicing cabbages… There are of course many factors that play a role in achieving the desired cutting result, not only which cutting tool one selects but also how the product is placed in the feed cylinder.
Anne-Lie and Lotta, who run the business, decided to complement their existing range of tools with a 2×2 mm Julienne and a 4 mm Slicer. Now they no longer need to buy ready-sliced iceberg salad and instead of cutting leeks, lemons, cucumbers and the like by hand they are able to use the machine. The Vegetable Preparation Machine is now in constant use as they prepare their menu, consisting of salads, sandwiches, exotic plank dishes, sandwich cakes etc. The tips they received, as well as the chance to test cutting tools for themselves before buying, were very much appreciated."
At www.hallde.com it is easy to compare the various functions of our machines, first by making a choice based on the desired capacity. You will also find a large number of videos that demonstrate type of cuts that can be achieved. Everything to ensure the right machine in the right Place!