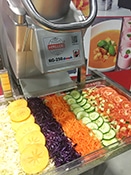 HALLDE saves valuable time for TGI Fridays – what can we do for you?
Published: 2019-12-02
Nominated the "Operator of the Year for Innovate Kitchen Design" by the Foodservice Equipment Journal, Mr. Terry McDowell, Head of Food and Drink at TGI Fridays UK, revealed that tests with HALLDE food preparation equipment save a lot of time, leaving space for the teams to focus on quality of execution in other areas by letting HALLDE taking care of cutting the vegetables.
For a restaurant like TGI Fridays with more than 85 outlets in the UK, it means a lot!
Find out what HALLDE can do for you, click here.