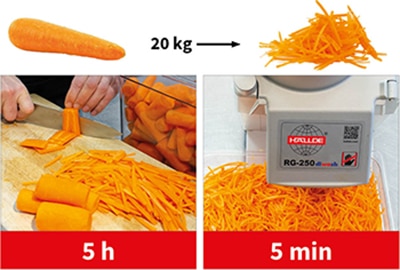 HALLDE saves you time in the kitchen!
Published: 2022-01-28
Vegetable preparation machines versus hand-cut
To show how much time you can save with a vegetable preparation machine, we have enlisted the help of a professional chef.
The chef cut carrots into 2mm x 2mm julienne for 5 minutes. First by hand, then with the help of a professional food preparation machine, the HALLDE RG-250 diwash. And what were the results? Watch the video here!
There are many arguments in favour of using really good catering equipment rather than cutting by hand:
Save time – what takes 5 minutes with a machine, takes 5 hours by hand
Save money – the repayment period is shorter than you think, read more here!
Hygiene – it is difficult to use plastic gloves when cutting by hand!
Safety – double safety switches, the risks are greater with a regular knife
The cutting result – precision is difficult by hand, even if you are a professional…
The RG-250 diwash's removable parts can be washed in a dishwasher – cleaning is quick and easy!
Read more about the RG-250 diwash Vegetable Preparation Machine here!
Watch more videos on time efficiency here!